Too Faced Shadow Insurance Review
This eye primer from Too Faced is very similar to Urban Decays Primer Potion and I have really only started using it to see if there was a marked improvement over the Urban Decay offering. The idea behind an eye primer is to stop your eye shadow from creasing and to intensify it's colour.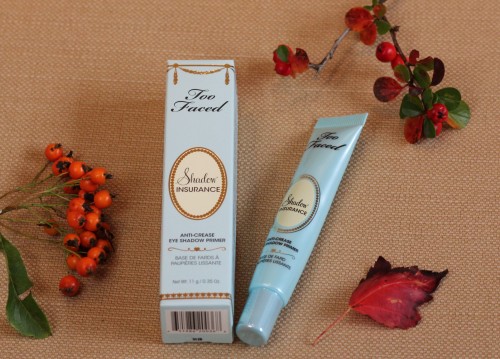 There is very little difference between the two products, my only gripe with the Too Faced Primer is that you need to shake the tube and manipulate it a bit before you use it or it can separate a little (although this only seemed to happen when I first received it through the post and the tube was very cold, once it had warmed up it was fine).  The price of this primer is £17. On the whole I like this primer, it does what it says it's going to do and makes your eyeshadow look brighter without changing the colour and makes all your hard work applying your eye makeup last all day. It is slightly coloured and evens out the eye lids a little which also helps. I am intrinsically lazy and always use a primer before I apply eye shadow, I just don't see the point in struggling to blend eye colours on a slightly greasy eye lid, where the shadow sticks to one part and not to another, this eye primer does add a little time to your makeup routine but pays dividends by the fact that you don't have to worry about your eye makeup mysteriously disappearing throughout the day, once it's on, it's on.