My Autumn Makeup Bag
Well it's official, the Indian Summer we were enjoying has now ended and my makeup is evolving into something a little more Autumnal. This is quite an organic process for me not a clinical exercise of putting away all my summer makeup and reinstating the products that I wore last year (mainly because I can't remember what I wore last year!) things subtly change every year and so does how you want to look.
Over the last few months I have been faithfully using to my It Cosmetics CC Cream which gave a whopping 50spf and had a lovely dewy finish, however, as the weather has got a little bit colder I have been reaching for Nars Tinted Moisturisers once again. Because I still have a little colour left in my skin I am mixing the shades Santa Fe and St Moritz to get the perfect match to my skin. I layer this on top of my trusty Estee Lauder CC Cream, which I am officially addicted to, it isn't a primer as such but I use it as one and it helps correct any redness and gives the skin a lovely healthy glow under foundation. One notable change since the weather became cooler is that I have started using a mattifying primer too on my T-zone, as I prefer to look a little less shiny than I do in the summer. The overall effect is not a heavily made up look but just a slightly more polished look than the one I wear during the warmer months.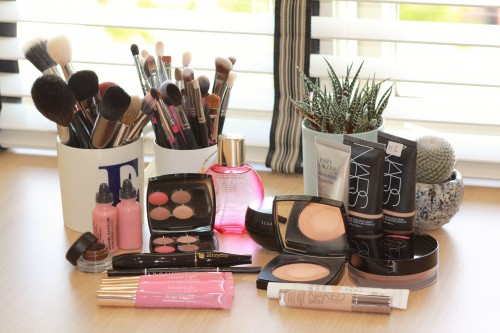 In terms of other makeup I am still reaching for the bronzer to try and retain some colour in my face, and I have gone back to my very trusty Soleil Tan De Chanel and I team this with a couple of Daniel Sandler liquid blushers to give a little flush to the face. With regards to eye makeup, during the summer I was wearing very little eye makeup maybe just a wash of cream eyeshadow and a bit of eyeliner (and mascara, obviously). I have invested in the new Chanel matt pallet which is a mixture of matt brown shadows and one red shadow. I am really enjoying playing with this pallet and getting back to doing a "proper eye". I have been teaming this with some dark brown gel eyeliner with a little flick – lovely. For my brows I have been filling them in a little with my new Nyx brow pencil, really lovely consistency and cheap, I don't wear a full instagram brow but do like a little more definition.
As ever I keep my lips reasonably nude, during the summer I became inseparable from my Clarins Instant Light Natural Lip Perfector and even though the seasons are changing this is not a product I am ready to let go of, maybe I will move to proper lip stick as we move through October… I hope you enjoyed a little look inside my personal makeup bag (it's actually a box). If you would like your own personal makeup prescription for the new season please get in touch and I would be delighted to help you find the look you want.